Centennial Families, Don't forget our Back to School Night is tomorrow from 5:30-7:00pm. This is an opportunity to tour the school, meet your child's teachers and learn more about the resources we offer. Cookies and punch provided. We look forward to seeing you!

Good morning Centennial families! The Board of Education will be conducting a Regular School Board Meeting on the 25th day of August at 6:00 PM. If you wish to join via zoom the link will be sent out Thursday at 5:45 PM.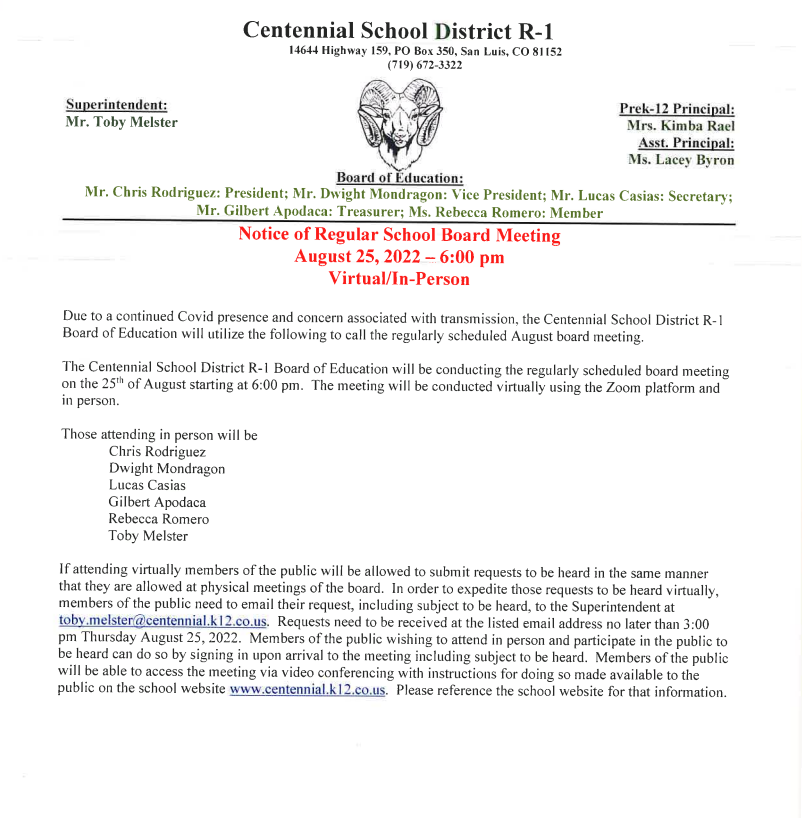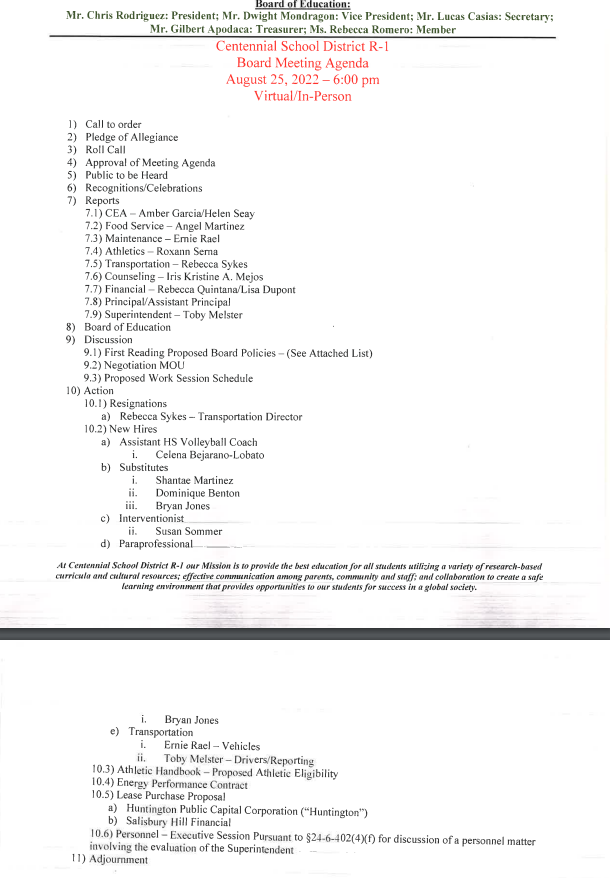 Centennial School District R-1 was made aware today of a possible threat to the school. School administration acted quickly and with purpose to address this report and contacted the appropriate authorities, students, and families involved. This report was taken very seriously and after school administration conducted the necessary interviews it was determined that the threat was low. The district will continue with normal school activities for Thursday August 18, 2022 as planned. Thank you, Toby Melster, Superintendent

Good evening Centennial families, All bus routes will be updated and running according to their revised schedules beginning Thursday, August 16. It is important that any transportation documentation as part of registration is completed and submitted before Thursday because the returning student registration window officially closes on Thursday. Any transportation requests after that day will be processed as new requests, which can take up to two weeks for modifications. Thank you for your patience while we ensure every route runs safely and within capacity requirements. Have a wonderful evening.
Centennial Families we will have a Back to School Meet and Greet, Wednesday, August 24, 2022. From 5:30-7:00pm. We look forward to seeing you!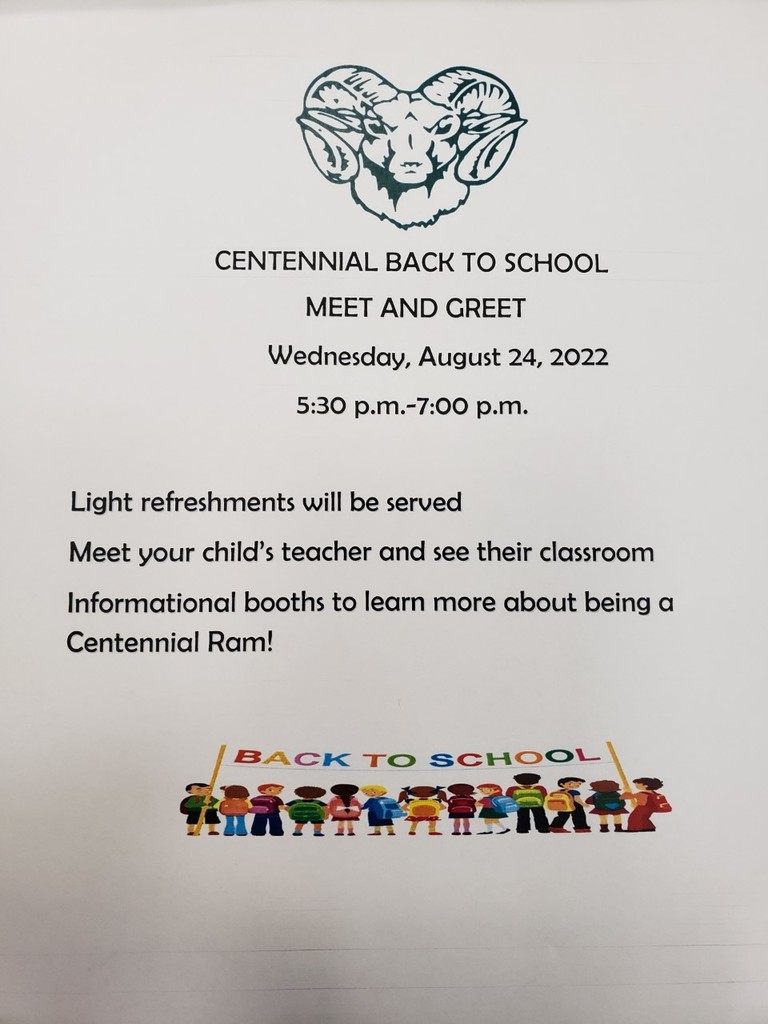 Good morning! Due to unforeseen circumstances, Liz' bus route is canceled today. We apologize for the inconvenience. Please, reach out with any concerns about attendance.
Good evening parents. The athletic/parent meeting this evening is for high school only. Middle school will be at a later date.
Good evening Centennial families. There will be a short parent/athlete meeting for anyone in Fall Sports (volleyball, football, cross country) tomorrow Tuesday, August 9th at 6:45 p.m. See you then.

Good evening Centennial Families, We are honored to welcome back students tomorrow for the first day of school. As a reminder, the student drop-off is in the front of the school or the front office. To ensure safety and security, families are allowed in the school for pre-arranged visits only and need to provide their driver's license or state issued ID. Breakfast begins at 7:45 and the tardy bell rings at 8:00am. See you in the morning!

Good afternoon, Centennial preschool and prekindergarten will have their annual Parent Orientation tomorrow, August 3, at 5:30pm. Come and learn more about your child' program.

Good morning! The Centennial front office will be closed August 1 and August 2 for staff training. We will return calls and will be available to drop off enrollment packets beginning Wednesday, August 3. Thank you!

ATTN: Middle School Girls We are excited to start the MS Volleyball season! 6th-8th Grade girls are encouraged to come out and play. Please, notify Angel Martinez by Sunday, July 31 if you are interested in playing this season. She can be reached by email or text at
angel.martinez@centennial.k12.co.us
Go Rams!

Good afternoon! K-8 Registration is happening now! We have a ton of expertise in our new staff in K-4 and 6-8 Grades. We have an exciting schedule that better supports our 5-6 graders as elementary students while leaving the 7th and 8th graders with a more blocked rotation middle school schedule. We also have backpacks and free books. Come on in to register. We will be here until 7:00p!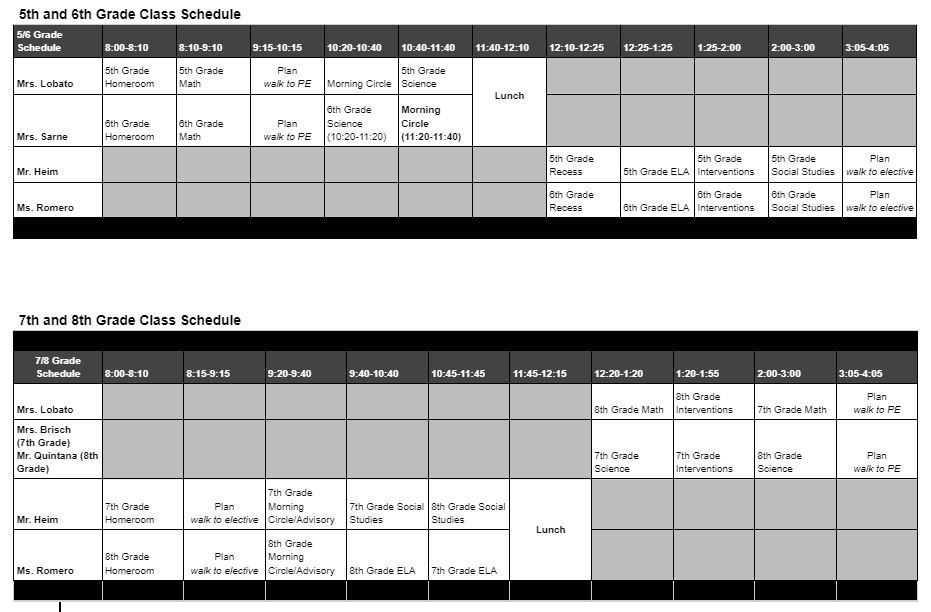 Wiley Chiropractic will be offering $25 sports physicals at Centennial from 5:00-6:00 p.m. today only.
Good afternoon Ram families. Just a reminder that Wiley Chiropractic will be at Centennial for $25 sports physicals tomorrow Tuesday, July 26th from 5:00-6:00pm. First official practice for Fall sports is August 8th. See you then.


Good morning Centennial families! The Board of Education will be conducting a Regular School Board Meeting on the 21st day of July at 6:00 PM via zoom. The link will be sent out Thursday at 5:45 PM.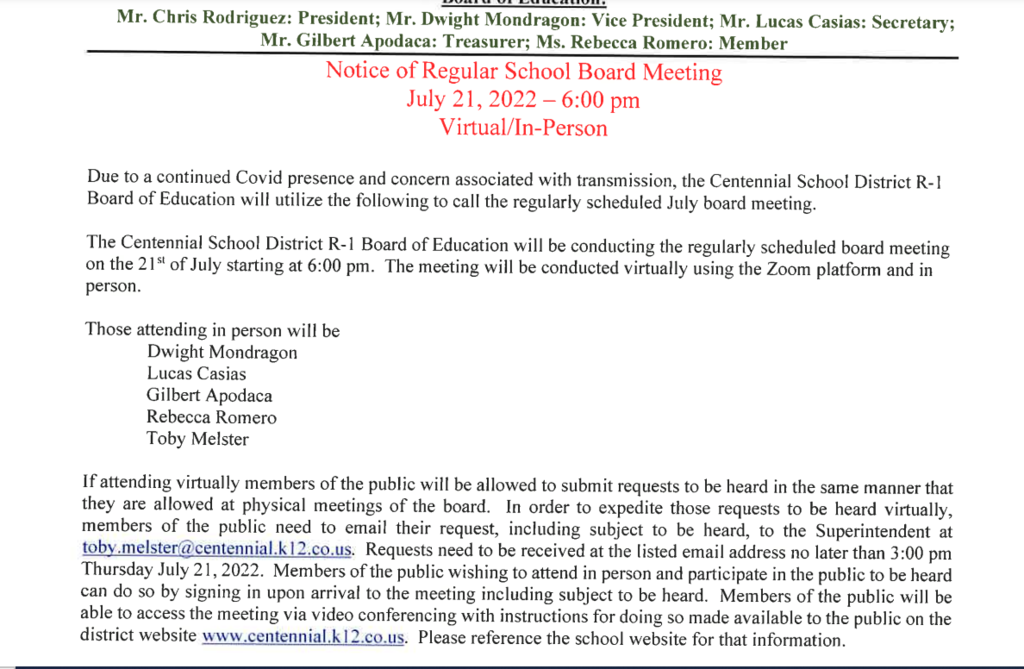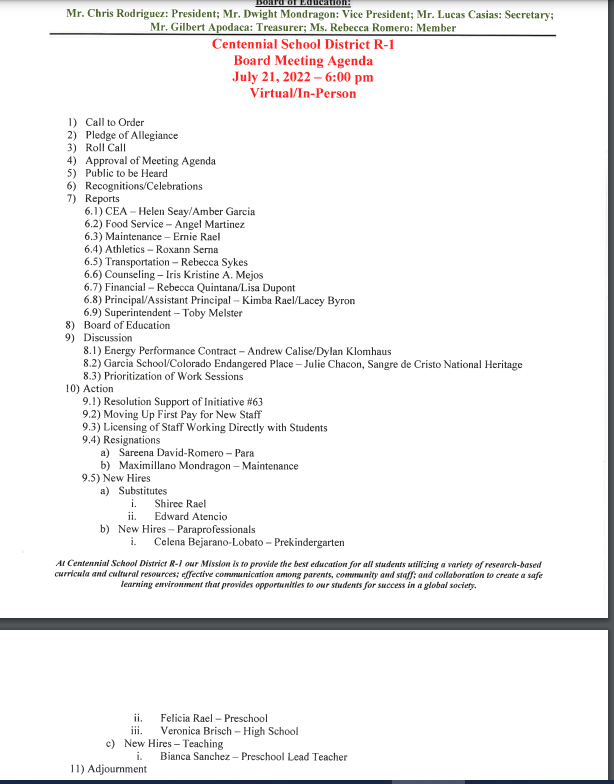 School Supplies Distribution at Public Health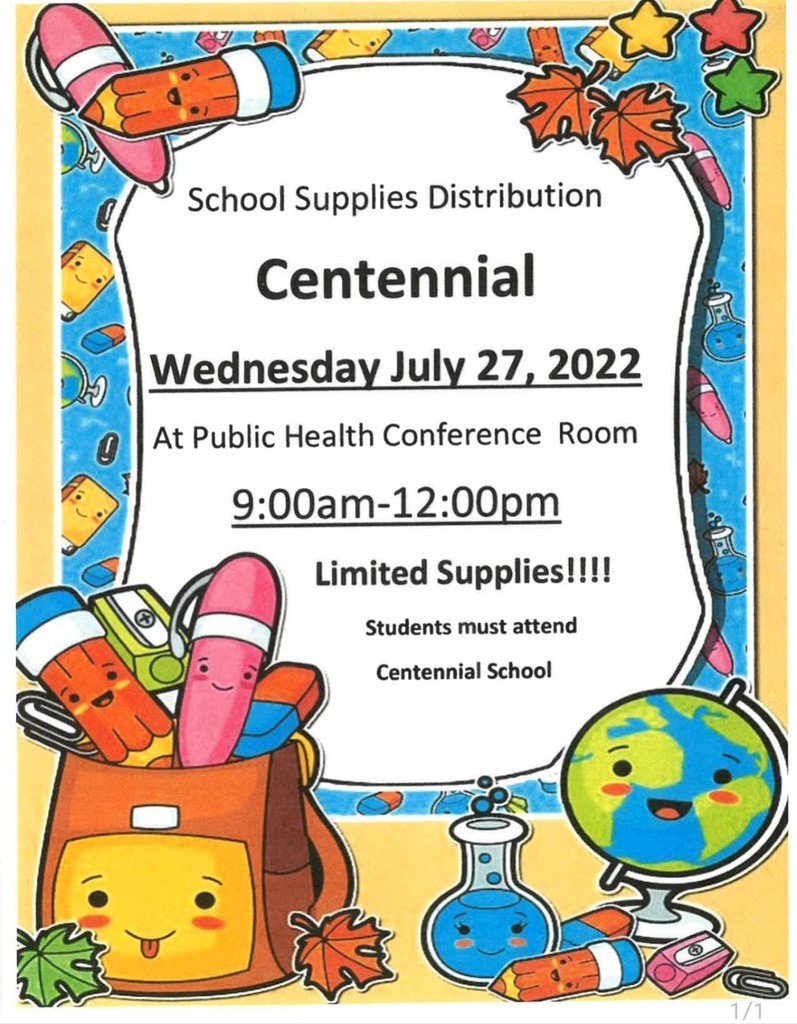 Good afternoon Centennial families. Wiley Chiropractic will be conducting sports physicals Tuesday, July 26th from 5:00-6:00 pm at Centennial. If your child plans to be involved in sports, they will need a current physical on file. Have a great day!

Adelante San Luis is accepting applications for Reina de Santiago y Santa Ana! See the flier for details.